Prince Buthelezi Birthday
28 September 2018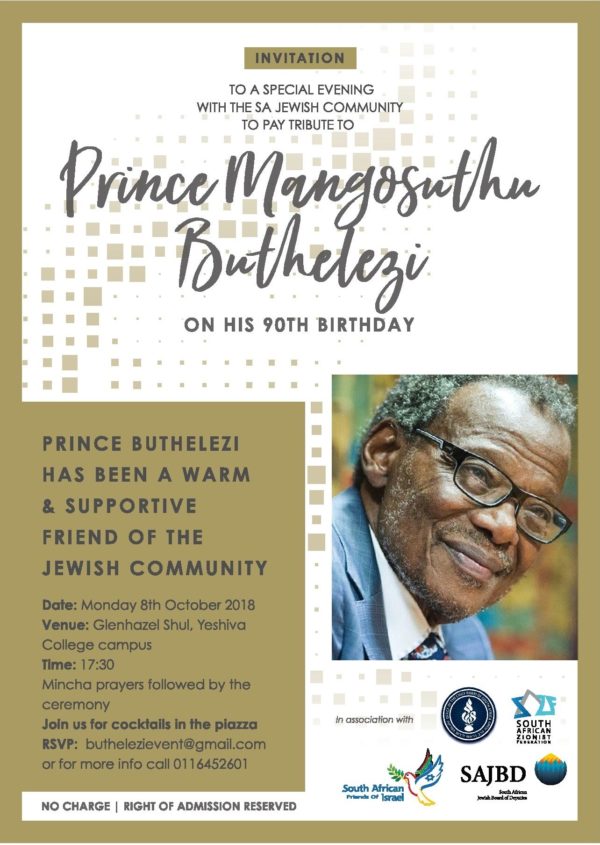 Recent Articles
"Mir zaynen do!"(We are here!) The defiant concluding words of the Partisan Song constitute a ringing declaration by the Jewish people that despite the unspeakable crimes of those seeking their destruction, Am Yisrael Chai - the Nation of Israel still lives. They remind us that when remembering those whose lives were so cruelly and unjustly extinguished, we are also testifying that for all the harm they were able to inflict on us, our enemies failed in their aim of eradicating the Jewish people altogether.
The SAJBD: Always open for business
While the Board's work naturally slows down over the December break, it never stops altogether. There are always new issues that arise that cannot be put off but have to be dealt with there and then. These can range from renewed upsurges of violence in the Middle East, incidents of antisemitism and even natural disasters. Following the 2004 Boxing Day tsunami, for example, we became extensively involved in assisting members of our community along with other South Africans caught up in the tragedy.
The Jewish community's political behaviour during the apartheid years has long been the subject of vociferous debate. 25 years after South Africa's transition to democracy, Jewish Affairs editor David Saks revisits the issue.