Steven Mark Katzew is a Johannesburg-based advocate. He grew up in Virginia and attended High School in Welkom, Orange Free State, going on to study Law at Rhodes University, Grahamstown. His articles on South African Jewish sporting personalities have appeared in Soul Sport and Jewish Affairs.
But for the advent of the Covid 19 pandemic, my father-in-law Harold Levy would still have been practicing as an optometrist in his 91st year. The unexpected termination of a lifetime commitment to caring for arguably our most important faculty has left him desperately longing for a return to his weekly work regimen.
For an uninterrupted 65 years, Harold devoted his time, skill and effort to testing eyes and prescribing glasses to almost three generations of patients across a kaleidoscope of communities, for forty years in Mayfair and for the remaining 25 in Kensington, Johannesburg.
In view of the high work rate and ethic that prevails in the Jewish community this statistic, however commendable, is not unique. Indeed, I have personal experience of perhaps an even more remarkable story (statistically at least) – in 1982 I served law articles with Bertha Pencharz when she was 75. She was Bertha Cohen, the Springbok bridge player, but practised law under her maiden name Pencharz. When I phoned her eighteen years later, by which time she was 93, to tell her I was engaged to my wife-to-be Heidi, she promptly offered to draw up our ante nuptial contract as a wedding gift. Seven years later, I would read in De Rebus, the journal of the erstwhile Law Society of South Africa, that Ms Pencharz was only the second person in the history of the practice of Law in South Africa (the first being Col. Charles Stallard) to still be practicing as an attorney in their 100th year.
The story of Bertha Pencharz is obviously exceptional, but stories of people working into their nineties are not that rare today. What then makes Harold Levy's story unique and worth telling? Whatever reason I advance, is bound to be tainted with a lack of objectivity – Harold is, after all, my loving wife Heidi's father and doting grandfather to all of his grandchildren (and first great grandchild, born 2 February 2021), including our two children, Keren and Asher. Besides which, it is no secret that I happen to be a great admirer of Harold independently of our familial connection.
Perhaps Harold's career story is worth telling because of the selfless support he has always received from his beloved wife Cynette. However, spouse or partner support in career success is not unique – many successful people attribute their career success to the patience, understanding and support of their spouse or partner.
Perhaps therein lies the clue to the uniqueness of Harold's story – Cynette's contribution to his career as an optometrist has never been confined to patience, understanding and support. Going back to the time of their marriage over sixty years ago, Cynette invested her sterling qualities of kindness and common sense and the highest degree of Chesed - charity, kindness and benevolence - into every aspect of her husband's practices, including managing the processing and submission of medical aid claims for eye tests performed by him, interviewing and appointing staff, managing the scheduling of patients' appointments, placing orders with suppliers for frames, managing the submission of prescriptions for lenses to laboratories, reading and checking all contracts for the business before giving them to Harold to sign, assisting customers and patients with the selection and fitting of frames – in short, but for the testing of eyes, every aspect of the running of the optometry practices was left to Cynette.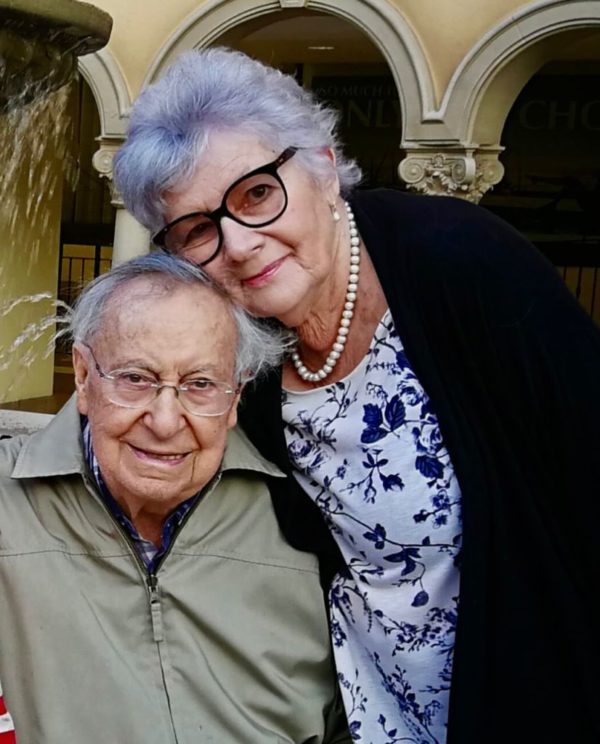 I will stick my neck out and assert that the synergy of a husband and wife team in a lifetime joint entrepreneurial enterprise, especially when the enterprise is the profession of the one embraced and mastered by the other, is itself a story worth telling.
The story necessarily begins with romance. It was February 1959, holiday time for those who wanted to avoid the school holiday rush. Harold and a friend had embarked on a "precipitous" journey from the Reef to the coast in Harold's "first love", a DKW Auto Union that coughed and barked beneath the frock like contours of its iconic frame.
For that generation, and some to come, the beach at Muizenberg, and in particular its famous "Snake Pit" on the main beach, was a Mecca for young Jewish singles. Harold, in his late twenties, in private practice as an optometrist and a Transvaal provincial table tennis player to boot, cut an imposing figure as he strutted towards the Pit. Charming and witty, blessed with fine features and sporting a pencil moustache, it is no surprise that after a short time spent "surveying the scene", his well trained eye locked onto the innocent beauty of 20 year-old Cynette Berkowitz, a shy "Klerksdorp girl", who had descended to the coast by car with an uncle and aunt.
It did not take long for Cynette to be offered a drive in the DKW Auto Union. On a windswept pass overlooking the twinkling bay, the bliss evoked by mutual attraction was about to receive its sternest test as the pair motioned to exit the vehicle at a viewpoint. No sooner had Cynette opened her door (which opened unconventionally front to back) when a gust of wind ripped the door completely off its frame. The pair sat staring in mute disbelief as it was carried away to rest precariously on a bush, miraculously held from tumbling into the ravine below. Cupid had already intervened – the DKW Auto Union had dropped a notch in Harold's ranking of priorities. His immediate concern was for Cynette's sweet despair than for the gaping hole in the capsule of his marque.
And so began a new chapter! Two lives merged into one, a union destined to still be flourishing after sixty years, an indispensable commitment to the edifices of family, home and mutual trust and support. This included the natural blending of Cynette's and Harold's skills and efforts into Mayfair Optometrists, an institution that for over forty years became renowned for expertly rendered ocular care in an atmosphere of warmth and unpretentious smooth administration.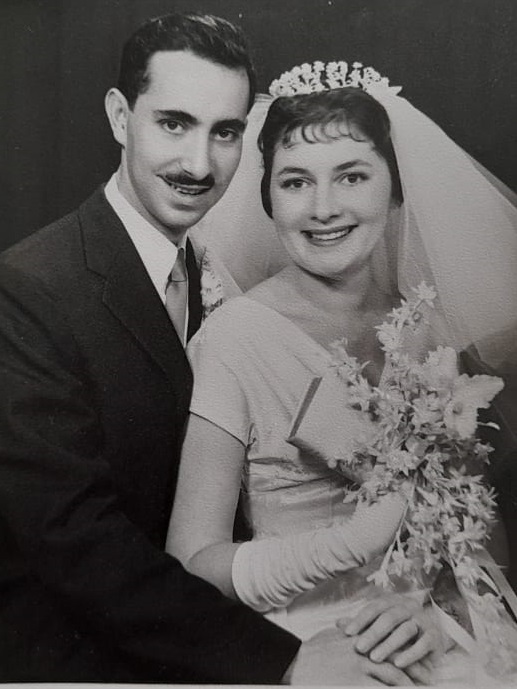 Mayfair Optometrists had its origin in a warm and trusting friendship between Harold and Meyer Saben. They had met through Meyer's brother Joe, Harold's then brother-in-law (Joe was Harold's sister Gladys' first husband). Harold had left school (Athlone Boys High) after receiving the Junior Certificate for passing standard 8. His reason for the early exit was that something had led him to believe that the introduction of television into South Africa was imminent and that there was money to be made and prospects for a career in the radio electronics industry. Thus, as a wide eyed youth of 17, Harold entered the job market. It wasn't long before he found employment in the radio and electronics field, where he was consigned to the workshop of his employer. He was immediately discomforted by his observation of a co-worker in the workshop stirring his tea with a screwdriver. Anxious for confirmation that the use of the unconventional stirring instrument was an eccentricity peculiar to the workman whom he had observed Harold made inquiries, which exacerbated rather than relieved his unease. He was met with the firm reproof that servings of tea in the workshop were never accompanied by teaspoons, and that the use of a screwdriver as a stirring instrument was accepted custom.
Harold's venture into the radio and electronics industry was thus short-lived. It was merely a matter of time before he plucked up the courage to resign. Once freed of this misguided pursuit, he enrolled at the then nascent Damelin College finishing school, where he completed standards 9 and 10 in one year. Thereafter, devoid of any direction but keen to find a meaningful and rewarding occupation, he literally roamed the streets in search of something to do. However, unlike his abortive venture into the radio and electronics industry, this time round he was equipped with the Senior Certificate, which was a passport to tertiary professional education.
On one such day, he and Meyer Saben were walking along Eloff Street in downtown Johannesburg when a sign for an optometrist piqued their interest. They entered and met the optometrist, who introduced himself as Mr Kacev. It was their first encounter with the profession of optometry. Intrigued, they asked Mr Kacev what they needed to do to become optometrists and were informed about a course in optometry offered by the Johannesburg Technical College. They needed no further persuasion. Thanking Mr Kacev they left, satisfied that their destinies had been chartered and wasted no time in enrolling for the two year study and practical program in optometry at the Johannesburg Technical College.
The first year of the program was devoted to the theory of optometry. The second was an apprenticeship at the Technical College's optical clinic. Once qualified, Harold discovered that the fledgling profession was slow to yield vacancies for recently qualified graduates, especially in Johannesburg. He was compelled to look further afield, eventually finding employment with Stein's Jewellers in Port Elizabeth, which offered optometry services in an upstairs section of the jewellery business. There, he spent approximately eighteen months as the resident optometrist. During this time, he joined a table tennis club and spent much of his free time honing his skills in the local league. He quickly rose in its ranks, becoming the Port Elizabeth and district Champion, and was chosen to represent Eastern Province in inter provincial competition.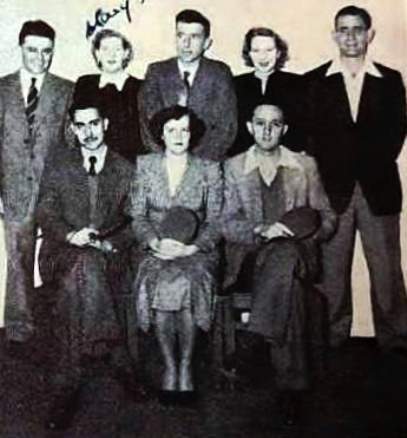 This relatively brief interlude in Port Elizabeth was to prove invaluable for the opportunity it afforded Harold for consolidation of both professional and sporting skills, which was later to stand him in good stead when he returned to Johannesburg. With the work experience garnered, he found employment as an optometrist easier to come by after returning to Johannesburg. He landed a job with Basman & Woodward Optometrists on the corner of Smal and Jeppe Streets in the heart of Johannesburg's then medical district. At the time, the area was dominated by all shades of general and specialized practitioners in Medical Towers situated on the corner of Jeppe and Von Weilligh Streets.diagonally opposite the premises occupied by Basman & Woodward
Harold worked for Basman & Woodward for approximately two years. His competence and confidence grew in the rarefied atmosphere of the distinguished Johannesburg medical fraternity, which fed his urge to branch out on his own, or in partnership with someone. He and Meyer had remained good and loyal friends, and together they decided to seek opportunities to practice in partnership. On finding premises in Harrison Street further to the west of the city centre, they resigned from their respective appointments to venture into the exciting world of independent private practice. Soon, however, they discovered that the location chosen was ill-suited to an optometry practice. Within a matter of months, they thus found themselves looking for an alternative location.
There was a spin-off from the long periods of inactivity in the unsuccessful practice in Harrison Street. Harold and Meyer were able to devote much of their time to advancing their burgeoning table tennis skills, which they both exploited to the full in the local Transvaal league. Their pooling of efforts and resources knew no bounds – after work, and sometimes even during working hours, they would exchange their lab coats for tracksuits and takkies and head off to the Drill Hall, or one of the other sports halls in the inner city, for a quick social game of table tennis or a league encounter – mostly after hours - for their club at the time, Jewish Guild.
The Transvaal League was of an exceptionally high standard, and both Meyer and Harold were equal to the task of holding their own in that elite company. They proved their individual worth and mutual loyalty and commitment to one another by winning the Transvaal Closed Doubles title one year against the vaunted pairing of Solom Phitidis and Callie Morris.
Building on his experience gained in the Port Elizabeth and district league and in the colours of the Eastern Province provincial team, Harold was to become a formidable singles player at the highest national level, adding Transvaal provincial colours to his honours list. Included in his scalps in the local Transvaal league was a milestone victory over Rex Edwards, a one-time English international, who at the time of this encounter was the number one ranked table tennis player in South Africa.
In between table tennis exploits, Meyer and Harold learned that optometry services in the greater Mayfair/Brixton/Crosby area were confined to a handful of pharmacies. In those early years when the practice of optometry was in its infancy, pharmacists could add what was known as a FSA qualification to their pharmacy diploma or degree, which sanctioned the inclusion of prescription glasses in their range of professional services. These ocular services were not, however, as extensive as those sanctioned by what was known as the F.O.A. qualification conferred upon completion of the optometry course offered by the Johannesburg Technical College.
Investigations revealed a niche for at least two dedicated optometry practices in the greater Mayfair/Brixton/Crosby area. Harold and Meyer answered the call by opening Mayfair Optometrists in the African Theatre Building in Central Avenue in Mayfair and Saben & De Waal Optometrists in Brixton. By agreement, Harold assumed the role of resident optometrist in the Mayfair practice while Meyer assumed the same role in the Brixton practice.
There was no De Waal in the Brixton practice – the name was included for special appeal to members of the large Afrikaans speaking community in Brixton. I'm not sure whether Harold is joking when he imitates Meyer Saben answering the phone, and when asked by the caller if he/she could speak to Mr de Waal, Meyer, in a thick Yiddish accent so reminiscent of those times, responded "It's he shpiking".
For Harold, this was the beginning of an era spanning forty years of ocular services amidst the buzz of Mayfair's cross section of communities encompassing English, Afrikaans, African, Lebanese, Muslim and Jewish. Over time, and in particular after Harold and Cynette got married on 15 May 1960, Mayfair Optometrists became a household name among this colorful collection of people from diverse backgrounds. Lifelong friendships were formed with employees, patients, neighbors and fellow resident professionals and shopkeepers.
These were also core Family years for Harold and Cynette. Mayfair Optometrists was the lifeblood of their home, which produced and educated their three children, Lynn, Risa and Heidi, and maintained a comfortable, rewarding and joyful lifestyle for all. Over the years, the appointments of their home began to resemble more and more the lavish antiques pedaled by Johan Boschoff in the pawn shop next door. As truckloads of collectables from farms and rural settlements were offloaded and carried into the shop, Harold would gape in awe at what was often an irresistibly spectacular piece, and sometimes even reserve a piece or two for himself and Cynette even before they reached the floor. Their prize acquisitions, which still adorn their home, included a magnificent grandfather clock, two ornate dressers and numerous smaller artifacts of value.
The pawnbroker Johan Boschoff has the making of a story all of its own. Johan had arrived penniless with his wife and two children from what was then Southern Rhodesia. He took the premises next door to Mayfair Optometrists and started off with a small scale pawn shop. The family could not afford separate living quarters, and initially lived in the back of the shop. Over time, Johan acquired a reputation for being a stockist of quality antiques and collectables with a large and loyal following from all over Johannesburg. With this swell in custom, his financial position improved considerably, and he was able to acquire a farm, to which he moved with his family. Harold and Cynette recall Johan eventually leaving Mayfair a wealthy man.
Conveniently a dentist, Dr Melvin Lazarus, had rooms next door to the pawn shop. Mayfair Optometrists' other neighbour was Oxford Outfitters (a fictitious name to avoid possible offensiveness of forthcoming stories), a name unsuitably matched to its owner, Mr Gelb (also fictitious), a first generation Jewish immigrant shopkeeper who, like his counterparts in large Jewish immigrant communities all over the world, plied his trade with the public across an impassable cultural chasm. The result was often somewhat inappropriate, but sometimes side- splittingly humorous, conduct, of which the actors were blissfully unaware.
Harold and Cynette have two such stories about Mr Gelb. One is when Harold entered Oxford Outfitters to find Mr Gelb advising a customer trying on a pair of shoes to remove his socks for a better fit, and then commenting how well the shoes fitted. To Harold's surprise, this was met by agreement by the customer, who promptly paid for the shoes and walked out wearing them, sockless but apparently satisfied. Cynette was witness to an even stranger incident. Once, she popped in to Oxford Outfitters to say hullo to Mr. Gelb, only to find him hanging a vast amount of cash notes on a makeshift line running across the shop. Asked by Cynette what he was doing, Mr. Gelb explained that a customer for a large sale had paid with notes that he removed from his shoes – the notes were damp and sticky, and he wanted to dry them out before putting them into the till.
A much loved pillar in Mayfair Optometrists was Derrick Twala, a larger than life character who hailed from Tugela Ferry in the then province of Natal. Derrick interpreted for African patients and also did repairs on glasses, which Harold says nobody can do today. Like Cynette, Derrick multi tasked in the practice, but he was more directly involved in actual eye testing than Cynette.
Derrick's role in eye testing was quite comical. Harold and Cynette retained a live-in three legged cat on the premises of Mayfair Optometrists, primarily to keep the rodent population in check. Harold figured out an additional role for the cat. When conducting eye tests, he introduced an exercise whereby Derrick would hold the three legged cat up high in the patient's line of vision, and Harold would ask the question "How many legs do you see on the cat?", to which even patients with 20/20 vision more often than not answered "Four" instead of "Three".
In musings around Levy family tables, Derrick Twala is without doubt the most talked about personality from Mayfair days. The picture that emerges from the blend of memory and mirth is a larger than life intuitive character with a wonderful sense of humor and hands of gold.
Cynette and Harold adored him, and Harold showed his extreme appreciation for his inestimable value to the practice by giving him his prized DKW Auto Union, a gift that spoke volumes for the mutual affection and admiration that existed between these two talented men.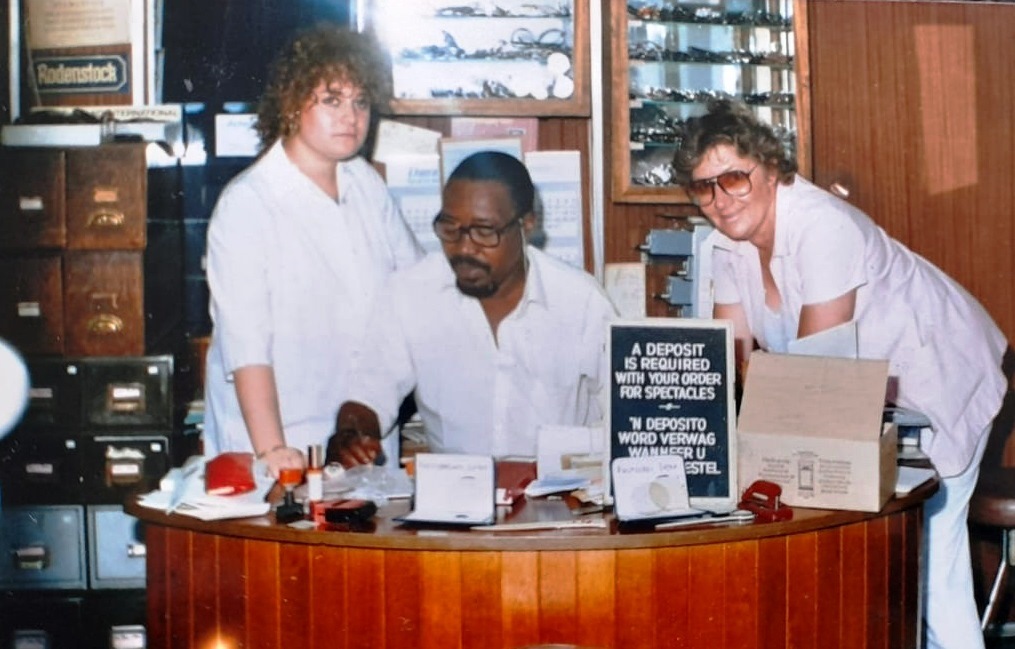 In the forty years of its existence, Mayfair Optometrists moved premises only once. It remained in its first premises in African Theatre Building in Central Avenue for approximately the first ten years (there was a popular bioscope in the same building). The relationship with the landlord was not good, however, and Harold and Cynette were constantly on the lookout for new premises. When an opportunity presented itself to take premises on the same block, at 132B Central Avenue, in a building owned by a wonderful man by the name of Mr Gilinsky, they wasted no time in seizing the opportunity to move the practice. Mr Gilinsky operated a jewellery business in his own building a couple of doors away from Mayfair Optometrists, and he and Harold and Cynette were a constant presence in one another's lives. It is a mark of the sincerity of their friendship that not once in the next thirty years did Harold and Cynette ever give a moment's thought to moving the practice from Mr Gilinsky's building to other premises in Mayfair.
The treatment of impaired vision is a skill akin to that of a trained medical doctor, except that the skill and associated knowledge are confined to the biology of the eye. It is for this reason that the prescription of ocular aids is included in the spectrum of medical services covered by medical aids. From about the mid to late eighties, there was a gradual exodus from Mayfair of the nucleus of the practice's patient pool covered by medical aids, and the financial viability of the practice naturally began to decline.
This is a dangerous but not unusual occurrence in the running of a longstanding business or practice. One requires considerable vision to stem the tide of decline through relocation, especially after forty years of familiarity deeply rooted in mutual loyalties and trust to people and place. The bold, if painful decision to close Mayfair Optometrists was made jointly over time by Harold and Cynette, a perfect example of their exemplary synergy, and one that neither of them could have taken without the input, support and guidance of the other.
An opportunity presented itself at the time for Harold to take over as resident optometrist in an existing practice called Darras Optometrists in Darras Centre, Kensington. Darras Optometrists had been established some years before by Harold in partnership with Ari Neutel, a son of lifelong friends of Harold and Cynette, Marcel and Rae Neutel (now resident in Irvine, California). The decision of the resident optometrist in their employ at Darras Optometrists to emigrate was perfectly timed for Harold to take over and seamlessly continue in practice.
In the fitting embrace of Kensington's graceful tree-lined avenues sprinkled with Victorian architectural flair reminiscent of early 20th Century Johannesburg, Harold and Cynette infused Darras Optometrists with the same old world charm of Mayfair Optometrists. It was in fact the perfect adjustment to maintain the compatibility of the noble ethos of Mayfair Optometrists, albeit in novel surroundings. The patient profile of the practice did, however, change from the colourful mix of English, Afrikaans, African, Lebanese, Jewish and Muslim in Mayfair to a more mainstream Afrikaans and English-speaking South African character buttressed by burgeoning Portuguese-speaking immigrant communities to Kensington. Harold and Cynette catered specially for the newly acquired Portuguese clientele by employing two Portuguese-speaking receptionists who worked in alternate shifts and by the use of the Portuguese word for Optometrist, 'Oculista', in the shop signage.
A mark of the high regard in which Harold and Cynette were held by old patients of the Mayfair days is that more than a trickle was prepared to undertake the trek across town to avail of Harold's service. It provides some idea of the void left in Mayfair by the closure of Mayfair Optometrists.
Further testament to Harold's reputation in the field of optometry is that when his partner in Darras Optometrists, Ari Neutel, decided to immigrate to the USA some fifteen years ago to join his parents and siblings in Irvine, the Value Vision group of optometry practices agreed to acquire his 50% interest in the practice and to partner Harold, at the age of 75, and Cynette in the continued running of Darras Optometrists. Effectively, this made Darras Optometrists part of the Value Vision stable, with the perks of the Value Vision group's buying power for discounted supplies of frames and lenses, enhanced negotiating leverage in signing of leases with landlords and employment contracts with staff, and in the appointment of locums when Cynette and Harold took vacation.
It was not all work and no play. Up until about six years ago, the famous Portuguese confectionery chain, Belem Bakery, had a branch in Darras Centre which Harold and Cynette used to frequent daily for a light lunch, leaving the receptionist on duty in charge of the practice. Harold beams with delight when relating that all the waiters knew his and Cynette's standard order - two cappuccinos and a toasted tuna and mayonnaise to share - and that no sooner had the waiters seen them walking in at their usual time, one of them would spin round and dart into the kitchen, returning moments later flourishing their order.
All this changed drastically when Covid 19 hit South Africa. Harold's partners in the Value Vision group rightly advised that it was too risky for an optometrist of Harold's age to continue eye testing, and summarily appointed a locum to replace him in the practice. This decision, the merit whereof it must be emphasized is beyond question, had the effect of ending two enormously successful and meritorious working careers spanning more than sixty years.
I agonized over a suitable conclusion, eventually settling on this short but telling tribute to two people for whom I have the deepest love, admiration and respect. In an atmosphere of waning old world charm, the loss of such dedicated delivery of skill, expertise and service is indeed irreplaceable.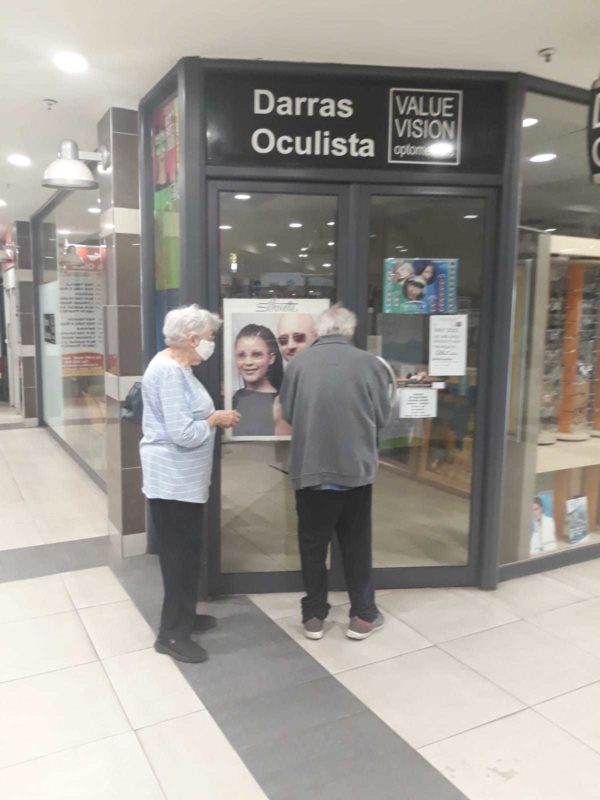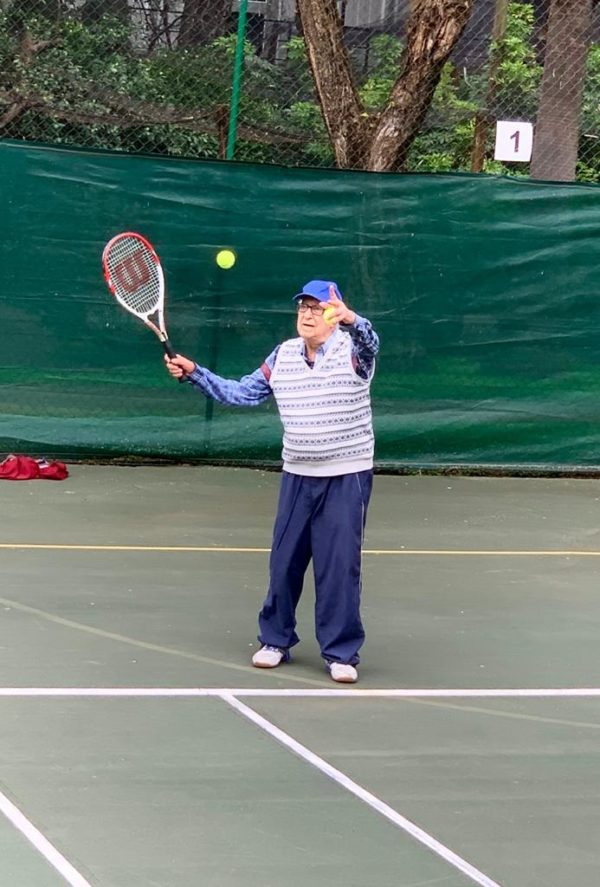 Postscript:
Two things worthy of mention have happened since I submitted this article to Jewish Affairs. The first is that it emerged that Harold has not abandoned hope of returning to work. On the contrary, he is firmly of the view that he will be able to do so, albeit only for a few days a week. His resolve in this regard manifested when I found a potential buyer for his and Cynette's second car, which he had indicated he wanted to dispose of due to his changed circumstances. However, when it came to being confronted with a serious potential buyer, Harold balked.
"The vaccine has arrived", he said to me, "and I will need the car to get to work and back once things normalize." To his family's utter disbelief, Harold is evidently far from reconciled to the prospect of drifting into permanent retirement at age 90.
The second is a story from Cynette and Harold's Mayfair practice Days that Harold recalled only a week or two ago. He happened to be sitting in the testing room with the door to the testing room ajar when he noticed a longstanding patient, Mr du Plessis (name changed for reasons that will become evident) enter the practice. A mirror in the reception area afforded a fully reflected view thereof to anyone seated in the testing room while the door leading to the testing room was ajar. Unaware of Harold's reflected view, Mr du Plessis approached a display of Rayban sunglasses in the reception, and tried on a pair. To Harold's dismay, he then slipped the pair into his jacket pocket. Harold remained calm - in a snap he resolved to ask Cynette to send Mr du Plessis an Invoice for two pairs of Rayban sunglasses. A few days later Mr du Plessis returned with a complaint – he had only taken one pair of Rayban sunglasses, not two!