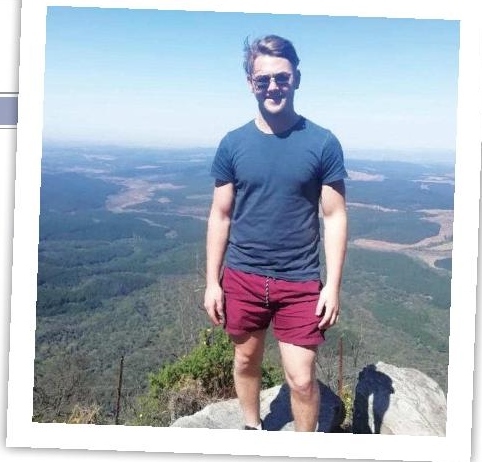 #IM STAYING
Inspired by the South African Jewish community

Over the past few weeks, a new movement has emerged on social media: #ImStaying – with almost 800 000 members at this point. The Facebook Page provides daily inspiring and uplifting stories of fellow South Africans who have experienced the special and positive aspects of life in our country. I have my own #IMStaying story which I am choosing to share on this platform.
On the 20th of September, my cousin, Adam Rabinovitch, was involved in a horrific car accident. For the following two nightmarish weeks, our family sat at the Milpark ICU, until he passed away on the 3rd of October.
For years, I have spoken extensively (both locally and internationally) on how inspiring and impressive South African Jewry are, but his tragic experience opened up a whole new dimension and gave me new insight into the depth and extent of our remarkable community.
From the moment of Adam's accident, there was an activation of community members – each contributing and supporting in their own unique way. Every person, whether he knew Adam or not, felt deeply touched and moved by this tragedy. Within minutes, Hatzolah was on the scene, providing not only medical expertise and excellence, but incredible emotional and logistical support. They were truly phenomenal. Their team was supportive of the family and provided constant support and guidance through this insurmountable and overwhelming crisis. As family members started arriving at the Milpark, volunteers took their keys so that they would not have to find parking. Shabbat candles, meals and accommodation were quickly arranged so that the family cold focus on their massive challenges.
Simultaneously, other support groups were forming – eight WhatsApp Tehillim groups were immediately formed each with 250 members. Imagine the comfort that this brought to our grieving and shocked family, knowing that so many people were praying for our loved one. In the days that followed, challah bakes were convened around the country and even overseas. Shiurim and sandwich-making events were held in the merit of Adam's recovery. King David and Yeshiva College had prayer services. We sat in the hospital, huddled over our cell phones watching some of these events unfolding with tears in our eyes and warmth in our hearts. It felt like wherever and whenever there was an event in the community over those weeks it was linked to Adam's recovery. Everyone was consumed by the tragedy. We knew we were not alone.
I frequently described the observation that we were being carried by a community. We were carried by prayers, by committed doctors, by Tehillim, by hugs, by listeners and by meals.
The corridors of Milpark were lined 24/7 with people saying Tehillim on carefully prepared rosters. Throughout the night, people, some who had never even met Adam, travelled to their shifts so that only Adam, but also his family, was never alone. A hospital can be a lonely and sad place, but this was alleviated by these caring people. In the small hours, one morning, Adam's mother, Nikki, walked down the to see her son in the ICU and came out sobbing. A university student on Tehillim duty embraced her and sat with her for ages just holding her in this horrible moment of distress.
And in good Jewish tradition, the meals arrived. The comfort food that made us feel so loved. The carefully prepared meals nourished us physically and emotionally.
When Adam passed away we felt the grief and the tears of everyone around us. Our community wept.
I have never really considered the greeting that we offer mourners when we leave a house of shiva, "May you be comforted among the mourners of Zion and Jerusalem". But now I understand it. We were comforted, loved, supported, and held by this incredible community. I have always felt blessed to be part of the SA Jewish community. But now I truly understand the privilege and the blessing. There are many reasons to live in South Africa, but for me this is my #ImStaying story.