Charlotte Cohen, a regular contributor to Jewish Affairs, is an award-winning short' story writer and poet, whose work has appeared in a wide variety of South African publications since the early 1970s.
.
The passage was a nightmare. Hundreds of Jewish emigrants Litvaks packed like sardines onto a vessel that would transport them - each with their life's possessions crammed into two suitcases - to a 'new world' … each managing to get through the ordeal of the journey by their determination to discard their desperation and consummate the dream which would take them to a new home
… each concentrating on the opportunities and well-being that hopefully lay in wait for them ...
.
BACKGROUND - Sophia Newstead (born Cynkin)
I was born in April 1881 in Mir, a town in the province of Minsk. My formal schooling ended when I was ten, after which I went to work as a seamstress. Most of what I earned I gave to my mother. I continued my education by attending evening classes. Whatever little I managed to save, was carefully put away so that one day, it would help pay for my passage on a ship to an exciting new destination, leaving behind the nightmare of hatred, poverty and pogroms.
One of the people in our village had a cousin who had gone to New York.
He sent a newspaper home once a month. Circulated to every family in the village, it was perused and pored over from cover to cover! They saw a new world! A better world! … Even if it meant never seeing their children again, parents urged them to leave.
" Go!" they urged… "Go to freedom! Go to a better life."
When I was seventeen I met Moishe who became my boyfriend. We shared dreams and were excited about plans to go to a new lan d. e b ecame People leaving our town went either to America or South Africa.
At eighteen, with the money I had painstakingly saved and with what my parents managed to scrape together, there was enough for a single fare out of Lithuania. I chose South Africa because a Mr. Chaimowitz, a tailor who had left Mir a year before and settled in Cape Town, promised my parents – and me – that he would have a job for me.
Moishe did not have enough money for a ticket. Actually he did not like saving or even working very much – preferring to spend his time playing or pretending to study. (I say this because with all the studying he said he was doing, he should have been much more learned than he was.)
When I told him that with the money that my parents had managed to get together for my fare, I would be going to South Africa, he was outraged. He said it was not right for girls to travel on their own. He said it was against the law. He told me to give him the money. He said that he would go, he would work and then send for me. I said I would rather use my money for my own fare; and that I would go and work and send for him.
He started shouting, insisting that it was unheard of for a woman to go on her own to a strange country - and 'send for' a man.
Nonetheless, I told him my mind was made up: and that my own money would be used for my own fare. He flew into a rage. He broke off our engagement and cursed me by saying that all my children would be born hunchback - which was the popular curse of the day.
As having children was the furthest thing from my mind, it did not bother me very much. I had much more to think about:
The long-awaited dream of starting a new life in another country, had become a traumatic reality with the filling-in and waiting for forms and more forms, the packing of my belongings, preparations for the journey and the unbearable finality of saying goodbye to my parents, family and friends, knowing that there was little chance of ever seeing them again.
The uncertainty of the future presented a strange mixture of trepidation and anticipation; enormous sadness, anxiety and fear intermingled with expectation, excitement and hope.
I was leaving a life I had known for eighteen years with a one-way ticket to the unknown.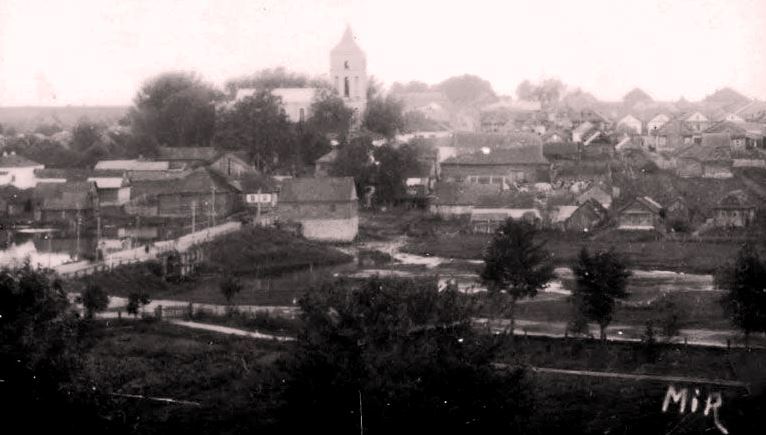 GRIT IN GRAVITY
After an arduous journey, I eventually landed in Cape Town to be greeted with the shock of hearing that Mr. Chaimowitz, the tailor for whom I was supposed to be working, was bankrupt.
He had no job for me. He had no job for himself.
I could only converse in Yiddish. My scant knowledge of English was less than useless. I could barely speak it. I was completely on my own with no one to turn to. I was desolate and desperate. I had found lodgings with a Mrs. Melamed, who ran a boarding house in Cape Town especially for immigrant Jews.
For a rental of 17/6d. per month, I shared a bedroom with five other people. In the 'arrangement' for the accommodation, I was also to wash the pots every night and scrub the floors on a Sunday morning.
Being poor was no stranger to me. I did not mind the extra work I was expected to do.
In fact, hard work was my best friend. I could rely on it. Work was my comfort, my security and my salvation.
But not having a job was devastating. I tramped from one place to another looking for work. The little money I had was running out …..
I prayed. … I vowed I would never ask God for another thing if He would only provide me with a job.
GRIT IN GRATITUDE
Soon after, I was recommended to contact a Mrs. Lerner, who ran a dressmaking salon which she called 'Madame Lerner's'. She employed me as a seamstress. My hours were 7 o-clock in the morning until 7 o-clock at night. My wages were twenty shillings a month.
With the money I had over after paying my board, I bought bread, soap and tooth-powder.
Mrs. Lerner brought sandwiches to share with me at lunchtime and gave me some left-over pieces of material so that I could make myself another skirt and blouse, as the few clothes I had were becoming worn-out and shabby.
Two months after I started working at 'Madame Lerner's', a Mr. Bernstein (from 'der heim') came into the shop. He said my parents were anxiously waiting to receive a letter from me as they had not heard from me since I had landed in Cape Town. He asked me why I had not written home. I told him I did not have the money for the stamp.
He placed a coin on the counter.
"You can always come to me" he said. "I will lend you the money."
I left the coin where it was. "I cannot afford to pay you back." I said.
At night, after cleaning the pots, I was so exhausted that I did not hear the snores and grunts from the five other people with whom I shared the room when I went to sleep.
But my prayers had been answered: I had a job.
.
GRIT IN GRAVITATION
One Sunday morning a handsome young man came to visit a friend who was also staying at the boarding house.
He saw me kneeling next to the bucket, cleaning the floor. I was embarrassed and lowered my face, hoping that he would just walk past me.
But he didn't. He stopped and introduced himself as Reuben Newstead and asked me my name. He told me he was a baker. He was born in Riga and had also come to South Africa an immigrant.
He approached Mrs. Melamed and complained about my having to work on a Sunday morning. He told her that it was not right to have me do this extra work for her after paying for my lodging.
It was the first time anyone had protected me since I had arrived in South Africa.
Reuben was a strong, determined and ambitious man. He was also a caring man with nice eyes.
He asked me to go with him to a picnic at the Strand the following Sunday. I wanted to go, but was worried about my having to clean the floors.
Reuben sought out Mrs. Melamed again. He told her that he had invited me to go out with him the following Sunday; that I would be going and also that I would not be cleaning floors on any Sunday again.
It was the first time anyone had not only defended me since I had been in South Africa, but had stood up and asserted themselves on my behalf.
Mrs. Melamed did not like it (nothing was more obvious than her tightly, pursed lips) - but she never mentioned my having to clean the floors again after that.
Nor did she ask me to leave.
Reuben courted me after that. We went out only on Sundays.
We were married seven months later.
Over the next nine years, I bore him five children. None were born with a hunchback.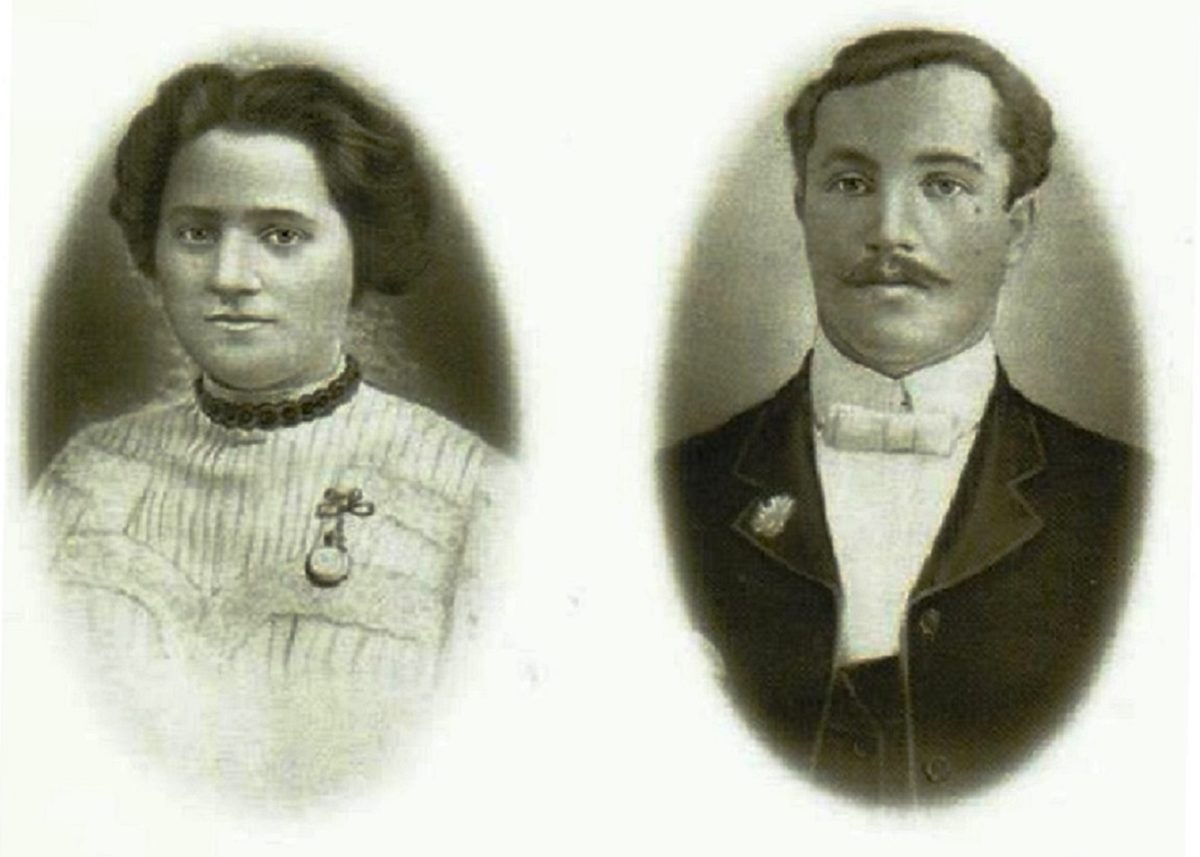 GRIT IN GRATIFICATION
We stayed on the third floor of a block of flats. Water had to be fetched and brought up three flights of steps in a bucket..
Reuben would get up well before dawn to make and knead the dough. Deliveries were made by horse-and-cart and had to be done before lunchtime. I went with him and remained in the cart while he loaded and off-loaded the bread.
One of my vivid memories was the day that the horse became detached from the cart and ran away. All the bread lay strewn over the ground. It blocked the road and took hours for us to clean it up.
Other than that, I stayed home to look after my growing family. It gave me a great deal of satisfaction that I had learned how to make do with what we had, and also, how to make what we had, stretch.
No one in my family ever went hungry. Everyone was always clean and neatly dressed.
Reuben bought me a new Singer sewing machine. Worked with a foot treadle, it sewed seams in a fraction of the time it took me to do by hand. I loved sitting before that black shiny machine, suspended for a while in a quiet, meditative world, where I could think, reflect, understand and marvel as I sewed.
Reuben was observant. The rituals and legacy of the Jewish religion, together with our upbringing, were an integral part of our lives.
Whereas Moishe regarded religion as didactic, demanding and prescriptive, Reuben's religious expression was directed more by dedication and determination.
GRIT IN GENEROSITY
There were only a few Jewish families living in the Claremont area at the turn of the century.
Reuben could not bear the thought that the Sabbath and the festivals would not be observed in the traditional way. He contacted every Jewish man living in Claremont and the neighbouring rural village of Lansdowne.
Each one was placed under a moral obligation to make up a minyan and in 1904, the first regular minyanim were organized at Askew's Building on the Main Road, Claremont. High Festival services were held in the Town Hall opposite the Claremont Railway station.
But the dream was to have our own house of worship.
One Sunday morning, with our son, Bonnie, in the horse and buggy, Reuben went to elicit money for the building of the synagogue. After he explained the purpose of his visit to Mr. Gorfinkel, the gentleman on whom he had called, Mr Gorfinkel responded, " That's a very good idea, Mr. Newstead. The next time you come around, I'll give, you something."
Reuben rode around the block. Ten minutes later, he knocked on Mr. Gorfinkel's door again and simply said, "It's the 'next time'!"
.
GRIT IN GRANITE
In 1914, Reuben was joined in business by a Mr. Gershon Fine. But he was much more than merely a business partner. He became a lifelong companion and family friend. He supported Reuben in all his efforts and also become involved in Jewish affairs.
Kneading machines, mixers and big ovens were installed at the bakery. It was given the name
N. & F. (Newstead & Fine) Baking Company.
After the beginning of World War 1, there were about 20 Jewish families who had settled in and around Claremont. Services for High Holy Days were still being held in the old Town Hall with other services held in private homes.
More than ever, Reuben felt the need for the community to pray in a proper house of worship. He called on the more affluent Jewish residents in the area to raise the funds.
He was determined.
In 1915, a Building Committee was formed.
The dream which had been nurtured since 1904 became a reality in 1919.
Claremont's first synagogue was erected at the lower end of Grove Avenue.
Reuben was elected as the first president of the Claremont Hebrew Congregation.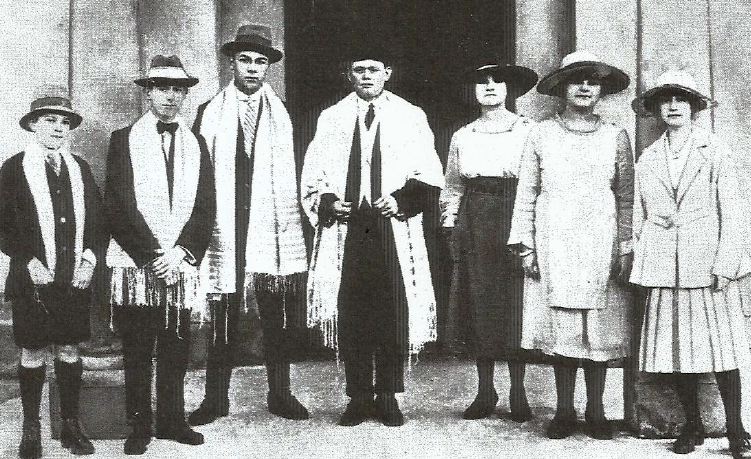 GRIT IN INTEGRITY
At a ceremony four years later, in 1923, the community honoured Reuben by presenting him with a beautiful plaque. I was also mentioned in it. It read: 'The Congregation desires to offer you a heartfelt and unanimous tribute of respect and gratitude for your integrity and your years of service on their behalf. They feel that it is largely owing to your great ability and devotion in your work that the Congregation have realized their aims. They fervently pray that the Almighty may bless you, together with your helpmeet, Mrs. Newstead, and your children for many happy years to come, and may continue to crown your undertakings with His Blessing.'
By this time I could speak English quite well, but still could not easily write it and there were words I sometimes did not understand.
I looked up the word 'integrity" in the dictionary. The meaning was given as "uprightness, principle or honour". As I looked at it, I noticed there was also another word in it: It was the word 'grit. I looked up that word as well. It gave its meaning as 'gravel' or 'sand.'
It seemed fitting that that meaning of the word 'grit', would be in the word 'integrity.
Experience had been a good teacher. For life is somehow always tied up with discipline; and discipline is found in hard work and restraint.
I knew that if Destiny were a piece of ground given to us at birth, only by moving the gravel and working with the grit, could the ground ever become a garden.
Hard work always brings its own reward. That is its blessing.
Reuben was made first Life President of the Claremont Hebrew Congregation in August 1935.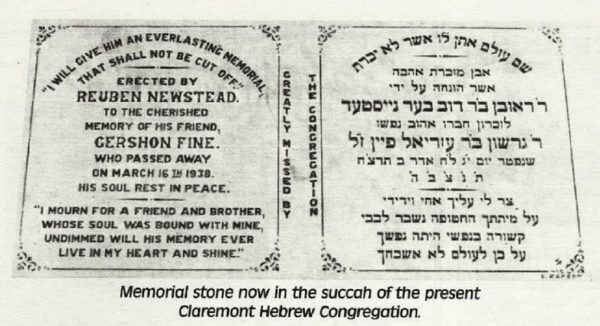 Sewing it together
Just like the off-cuts given to her by Mrs Lerner, the fabric of this story was given to me in bits and pieces by my grandmother Sophia Newstead, nee Cynkin - and then sewn together with information kindly provided to me by the late Mr Herbie Merris (to whom I was referred by the late Willie Katz). Mr Merris lent me old papers and minute books which he still had in his possession. These gave me some dates and places[1] on which to hang the story. Then, using the yarn of my own imagination to give it expression, I embroidered it with the emotions I think my grandmother would have felt. …..
My grandfather, Reuben Newstead, died in 1955 at the age of 72.[2] Sophie lived another 24 years after that. She passed away in 1979 at the age of 96.
Connection and Recollection
I was fortunate to have stayed next door to my grandmother for almost twenty years prior to her death. She had a good sense of humour, could be quite feisty at times - yet knew how to keep her own counsel.
She liked to play rummy and to attend the Saturday afternoon matinees at the cinema on the corner – for which she had made an arrangement with the manager whereby she could purchase her ticket on a Friday afternoon. She made the most marvelous gerigten, which I have never tasted again since she died. One of them (called 'lupchikes') made from fermented beetroot leaves and stalks, chopped and cooked with onion and served with sour cream, was like tasting a "one-way ticket to heaven". I have only met one person who has ever heard of it.
She did all her own sewing, mending, shopping and cooking. 'Work' was always her best friend. She showed me how to make potato kugel (my most prized recipe with a special secret ingredient).
When I think of how she handled transpositions in her life, I find I am more able to cope with
the vicissitudes in mine. She has been, and still is, one of the greatest influences in my life.
My grandmother fell when she was 93. Although she walked again with the aid of a walker, she became very frail after that.
The beautifully framed scroll given to my grandfather in 1923 and which took pride of place in her hallway was passed on to her daughter, Dolly, and eventually on her death, to her son, my cousin Jeffrey. Before he immigrated to Australia, he gave it to me. Having had pride of place in my hallway for many years, it was recently passed on to the Jewish Museum in Cape Town for exhibition.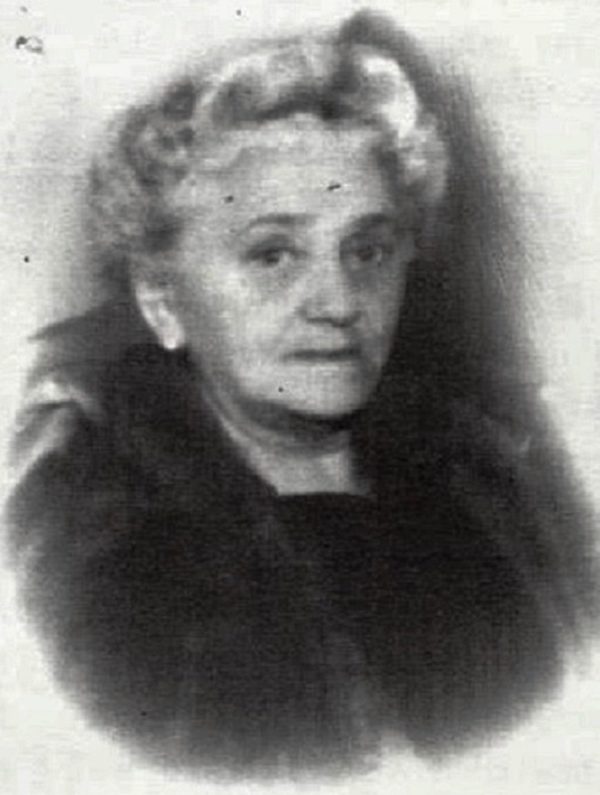 REMEMBRANCE AND REMINISCENCE
My grandmother hardly ever proffered the stories and anecdotes of her past that I have used. They were related on the few occasions when I became curious and plied her with questions about her background.
Now I wring my proverbial hands when I realise how much I could and should have extracted from the history I did hold in my hands. …. Why did I not take more from her while I could? Why was she, herself, not more forthcoming about her early years?
A line in the beautiful song 'The Way We Were' may offer some answers as to our parents and grandparents reticence about their past … "What's too painful to remember, we simply choose to forget."
The Jewish religion, however, does nor forget. It keeps reminding us of our roots. It is infused with an intensity to recount what has been.
I remember once when my eyes were drawn to the framed plaque that had been given to my grandfather.
The word 'grit' in the word 'integrity' stared back at me.
I looked up the word in the dictionary to check whether 'grit' was Western American slang.
'Grit' was described as 'gravel' or sand' (as my grandmother had seen it); but was also described as 'courage, decision, nerve, firmness."
What a coincidence that both meanings of the word 'grit' which appear in the word 'integrity' - each with a different interpretation ('gravel' or 'courage') - just as my grandmother and I may have applied them - are both so apt and appropriate..
This excerpt is taken from Dale Carnegie's scrapbook:
So don't be a pifter, old pard
Just draw on your grit
It's so easy to quit
It's the keeping-your-chin-up that's hard.
It's easy to cry that you're broken and die
It's easy to crawfish and crawl.
But to fight and to fight, when hope's out of sight;
Why, that's the best game of all!
And though you come out of each gruelling bout
All beaten and battered and scarred
Just draw on your grit. It's so easy to quit
It's the keeping-on-living that's hard.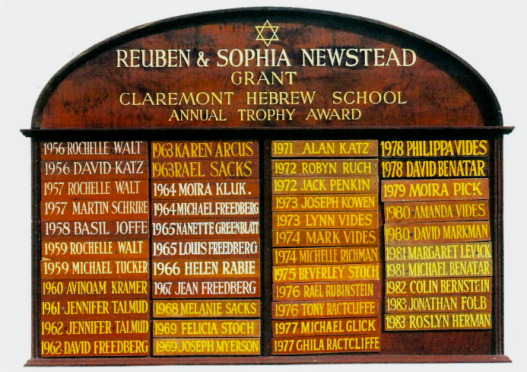 RETROSPECTION
In the same way as children do not always see eye to eye with parents, or members of the same household disagree, there is nonetheless, a common thread that runs through our veins. It is a cord which irrevocably ties us. We belong to the same family.
Whether Jewish religious affiliation is Orthodox, Conservative, Progressive - or none, whatever our preference - we are knit with strands of the same skein.
As it is with the word 'grit' in 'integrity', so are there wheels within wheels … circles within circles.
We are all irrevocably bound.
We may differ in our thinking: But we are the same in recognising that 'grit' is one of the integral ingredients of integrity:
It takes grit to meet life head on.
It takes grit to keep trying.
It takes grit to be honest and to accomplish one's purpose.
It takes grit not to lose hope.
What carried my grandparents was courage. What sustained them was faith. Vision and determination drove them and hard work made it all possible
'Life can only be understood backwards, but it must be lived forwards.' (Soren Kierkegaard)
The Jewish New Year has within its heart a combination of chronicle and continuance.
This is the time when history and destiny are tacked together.
It is the time when we are able to cut pieces from the various fabrics we have worn, fit them together with fragments of material donned by our forefathers, and make ourselves a new 'coat of many colours.'
It is at this time that we 'understand' by looking backwards' and, at the same time 'live forwards' by looking to the future.